Welcome to
Joyce Prince . Com
Joyce Hanley . Com
The home of Joyce Personal Services (JPS)
The Crystal Pineapple to Joyce
The 5th Annual SHTA Crystal Pineapple Awards recognize outstanding individuals and organizations that have made significant contributions to move our Tourism product forward with their dedication, service or smiles.
The SHTA understands the importance of recognizing individuals in the industry and will therefore continue in its quest to acknowledge the people that make our tourism industry the success that it is, and who have demonstrated exceptional performance in their field.
"Tonight we recognize and celebrate individuals with the right stuff," SHTA president Emil Lee said, adding that the association believes it is important to recognize and place on a pedestal the members of society who should become role models and inspiration for others to follow. The event featured 19 categories and 70 nominees.
According to Lee, every winner in the Programme, Hospitality, Community and Trade awards had chosen not to be content with mediocrity, but had chosen to be exceptional.
Among these "exceptional" winners, as Hospitality Manager of the Year: Joyce Prince of Joyce Prince Tours
* Excerpted from SHTA releases and newspaper coverage.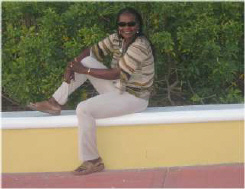 You've got a friend in St. Maarten / St. Martin !
Hello, I'm Joyce Hanley-Prince, and I would like to welcome you to my website and (hopefully) soon personally welcome you to my Island. We are now bringing together the three sections of our business into one central location so that we can best serve your needs, no matter how you visit St. Maarten; in a Villa, Timeshare, Yacht or Cruise ship.
Just to make it clear, this is my service, not a company with a fleet of vans, busses and drivers. I do the personal tours myself unless, as I'll explain later, I need assistance for a larger group.
Note that there are occasions where I am already booked and a customer really wants a private tour instead of the usual group tours offered by the cruise lines and others. In these cases, I now have a person that I can refer the customer to, but it is only with your full knowledge that I will not be providing the tour personally.
Joyce

Click for a message from Joyce
When food geek Alton Brown, Food Network's host of Good Eats, Iron Chef America and Feasting on Asphalt, sails into St. Maarten you know that something's cooking, and indeed there is.
Alton, with his production and film team, sailed the Caribbean in search of Good Eats, in the form of local cuisine, for his Food Network series Feasting on Waves.
And when Alton and his crew anchored in St. Maarten, where did they turn for a local expert, guide and driver? They called upon St. Maarten's local businesswoman Joyce Prince, of Joyce Prince Tours, of course.
In a brief conversation below Fort Louis and near the Marigot Marketplace on a busy Saturday morning, Alton commented about Joyce that she was a remarkable woman, very knowledgeable about her island and the local cuisine.
Watch your local listings for a rebroadcast of the four-episode series, which the Food Network described as "Think Pirates of the Caribbean meet Jacques Cousteau meets Alton Brown", as Alton explores the culture and life of food above, below and around the Caribbean.
And our congratulations to Joyce Prince.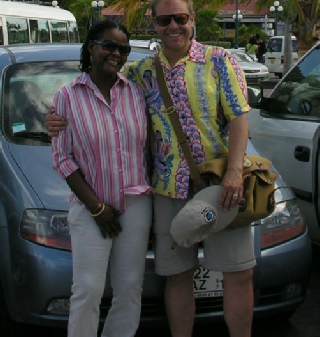 US Number 1 - (305) 831-5742
New Dialing Prefix for St Maarten
Phone: 1 - (721) 526-5252
Fax: 1 - (721) 547-0264
Please note that this is still an international call
JOYCE PRINCE AWARDED TRIPADVISOR CERTIFICATE OF EXCELLENCE

Recognised as a Top Performing Attraction as Reviewed by Travelers on the World's Largest Travel Site
Philipsburg– Joyce Prince today announced that she has received a Certificate of Excellence award. The award, which honors hospitality excellence, is given only to establishments that consistently achieve outstanding traveller reviews on the website, TripAdvisor, and is extended only to selected qualifying businesses.
Businesses awarded the Certificate of Excellence are located all over the world and represent the upper echelon of businesses listed on the TripAdvisor website.When selecting Certificate of Excellence winners, TripAdvisor uses a proprietary algorithm to determine the honorees that takes into account reviews ratings. Additional criteria include a business' tenure and popularity ranking on the site.
Joyce says " I am so truly pleased to receive this award, as it demonstrates the care that I put into every tour and every service that I offer to our guests, whether they come to our island on a Cruise Ship, Yacht or are Stay-over visitors in a Villa or Timeshare. I thank every single guest who has bothered to go to TripAdvisor and review their experience, and thank them even more for all the positive reviews. Our island cannot exist without Tourism, and I am trying to do my very best to enhance our image as a wonderful destination".
RCI's Endless Vacation Magazine recommends Joyce Prince Tours
Endless Vacations Magazine, Winter 2014
Along with private-boat excursions and town history tours, island-based trip planner Joyce Prince can set you up with hiking guides who lead everything from beach walks to advanced jungle treks.
Reviewers are Raving about Joyce
FLASH: Free on-board Hotspot with Tour!!!
See my 'Tours' page for details.